PACKAGES

:
4 GUNS-16 PHEASANTS $125 PER GUN OR $500 TOTAL*
4 GUNS -14 PHEASANTS, 12 CHUKARS $155 PER GUN OR $620 TOTAL*
4 GUNS -16 PHEASANTS 8 CHUKARS, LUNCH AND FISHING, $200 PER GUN OR $800 TOTAL*
*ALL HUNTS INCLUDE GUIDE, DOG & TIP.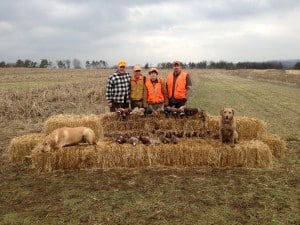 CUSTOM PACKAGES AVAILABLE.
PRICING

:
PHEASANTS $25.00 EACH
CHUKAR $15 EACH
QUAIL $10 EACH
INCLUDES BIRD CLEANING – BREASTING ONLY
MINIMUM PURCHASE REQUIREMENT: Guide with Dog – $55.00, ½ DAY
Guides available upon request. Each guide comes with years of experience in the field and are accompanied by some of the area's best bird dogs.  Recommended 1 guide w/dog per party of 5 or less.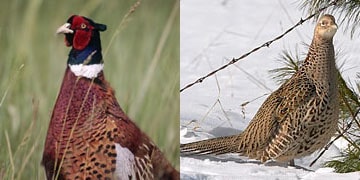 Pheasant – a Pennsylvania game bird, offers an explosive flush that can startle even the most seasoned hunters. The brilliant colors on the male cock bird makes this one of the most widely recognized as the most popular upland game bird. One more thing, don't forget your sneakers, these babies like to run.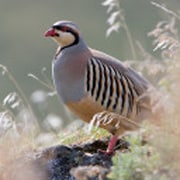 Chukar – native to southern Asia, were first imported by private game breeders in Illinois, in about 1893. This bird can be found in prominent numbers in Idaho. This bird offers a tighter hold and consequently provides a better prep for the shot. The size of the bird can be a challenge for the novice hunter. Taste like chicken.
Quail – a Pennsylvania game bird, offers a challenging target. With flight speeds up to 30-40mph, this prey will generate lots of excuses and many laughs.
Additional Services

:
Warm up round of skeet (25 clays) $10.00
Dog Training packages

Lunch packages available upon request and with prior notice (additional fees apply)
Rules and Regulations

:
Preserve Hunting in the state of Pennsylvania allows for an open season starting September 1st and ending April 30th.
For safety reasons no alcohol is permitted before or during hunting
Hunters are required to wear 250 square inches of fluorescent orange.
No Licenses are required.
There is no limit to the number of birds shot.
Youth, 18 or younger must be accompanied by an adult and have passed a safety course.
SPECIALS

: